Felony Charges in Massachusetts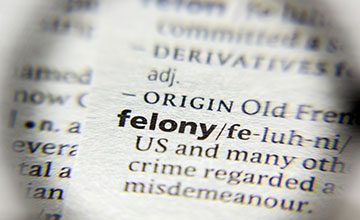 Few things in life are more terrifying than being charged with a felony. If you're facing felony charges in Massachusetts, you likely have a lot of questions—and powerful emotions—to sort through.
It's normal to feel overwhelmed and even lost when you're in this situation. You see, it's true that our justice system is designed around the presumption of innocence, meaning you're innocent until proven guilty. But in reality, it often doesn't feel that way after you're arrested.
As a knowledgeable, aggressive Massachusetts criminal defense attorney and former prosecutor, our attorney Courtney K. Fogarty has more than 10 years of experience handling felony charges in Massachusetts. Below, you'll find answers and information related to the most common questions she hears.
The Legal Process for MA Felony Cases
After you're arrested for felony charges in Massachusetts, the typical next steps are:
1. District Court arraignment. Most criminal cases, even felonies, start in District Court. You're formally made aware of the charges against you.
2. Probable cause hearing. The next step is for a District Court judge to review the evidence. They have to determine whether there's enough to charge you with a crime above the District Court's jurisdiction, which moves your case to Superior Court.
2a. Grand jury indictment (optional). Depending on your alleged offense and the evidence, prosecutors may present everything to a grand jury. If the jurors agree there's probable cause that you committed the felony, you'll be arraigned again—this time in Superior Court.
3. Superior Court arraignment. The charges against you are formally read off, and you must enter a plea of not guilty, guilty, or no contest.
4. Pre-trial hearing. This is an opportunity for both sides to start preparing for trial. Dates for filing motions are set. It's also possible for the case to be resolved at this stage, though this is less common for serious felony charges.
5. Discovery. Both sides use this time to gather and exchange evidence, including details related to witnesses. Any information that either side plans to use in the trial is documented during this process.
6. Pre-trial motions. Your lawyer and the prosecution can file motions, which impact what happens during the trial. For example, we may file a motion to exclude specific evidence if we can prove it wasn't obtained legally.
7. Trial. If your case isn't resolved or dismissed in the previous steps, you'll go to trial. Your lawyer and the prosecutor will each present evidence and cross-examine witnesses to prove their side. Your case may be heard by a jury or only a judge.
8. Sentencing (if found guilty). If you're found guilty, the judge must consider multiple factors to determine your sentence. The seriousness and impact of the offense play a role, as does your past criminal record.
9. Appeal. Feel like your case wasn't handled properly? You can file an appeal within 30 days of the guilty verdict. If it's decided that a legal error or breach of justice occurred, you may be granted a new trial or reversal of your verdict.
What are Felony Charges in Massachusetts?
Per the MA Felony and Misdemeanor Master Crime List, a few examples of felony charges in Massachusetts include:
Murder
Vehicular homicide
Assault and battery with a dangerous weapon
Rape or sexual assault
Indecent assault
Drug possession with distribution intent
A third (or greater) DUI offense
Kidnapping
Child pornography
Child endangerment
Burglary
Gun charges
In MA, a felony is defined as any crime punishable by death or a prison sentence of any length. A misdemeanor, on the other hand, is any crime that doesn't meet these thresholds.
With over a decade of successful experience winning favorable outcomes for clients, Courtney K. Fogarty can defend you against any felony charges in Massachusetts. Just call us at (508) 317-0339 for your free case evaluation and to start building your custom defense strategy.
What are the Penalties for a Felony Conviction in MA?
The potential penalties for a felony conviction in MA depend on the exact charges, but can include:
A prison sentence, which can last anywhere between one year and life
Fines, fees, and restitution ranging from hundreds to thousands of dollars
Suspension or revocation of your driver's license
Mandatory community service, probation, and/or counseling
Restraining order(s) taken out against you
If you're sentenced to even just one of these consequences, your life may drastically change forever—not to mention the impact on your professional and personal relationships.
Ultimately, the judge has to follow several sentencing guidelines to make this decision. These include the seriousness of your offense, the impact on the victim(s), and your past criminal record.
Can I Get My Felony Record Expunged in Massachusetts?
Yes, you can get your felony record expunged in Massachusetts if you meet these criteria:
All of your felony sentence was completed at least seven years ago
You've been convicted of no more than two criminal cases
You didn't commit the felony against a disabled or elderly person
The felony wasn't a sex offense, wasn't sexually violent, and didn't involve a child
The felony wasn't an OUI (Operating Under the Influence)
The felony wasn't committed with intent of, nor resulted in, bodily injury or death
The felony didn't occur while you were armed with a dangerous weapon
The felony isn't related to the illegal sale of firearms or a firearms violation
You didn't violate a restraining or harassment prevention order
The felony didn't involve assault or assault and battery of a household member
The felony isn't one of those listed under G.L. c. 265
There are also a few scenarios in which you don't need to wait seven years, such as:
Your identity was stolen and/or falsely used by someone else to commit the crime
The felony offense is no longer a crime under new legislation
Errors were committed by law enforcement, witnesses, and/or court employees
Fraud perpetrated upon the court
Whether your expungement request is complicated or cut-and-dry, you can benefit from hiring an experienced MA criminal defense attorney to help. You see, there are always small details and nuances that determine your eligibility and path to expungement.
Working with a knowledgeable attorney like Courtney K. Fogarty is the easiest and most straightforward way to get your felony record expunged in Massachusetts.
Facing Felony Charges in Massachusetts? Get Help from an Aggressive, Focused MA Criminal Defense Attorney
A Massachusetts criminal defense lawyer like Courtney K. Fogarty can help fight your felony charges by:
Decisively and aggressively advocating on your behalf during court appearances
Giving you accurate, understandable legal advice whenever needed
Finding and leveraging any mistakes/violations committed by law enforcement throughout your case
Working to help you minimize or completely avoid jail time
Securing the most favorable possible outcome for your specific case
Felony charges are the most severe type of offense in our legal system, and they carry the harshest penalties. Trying to prove your innocence and earn your freedom without hiring a skilled lawyer is like trying to climb Mt. Everest without any gear. If you or a loved one are facing felony charges in Massachusetts, contact Fogarty Law now or call (508) 317-0339 for your free consultation. We're available 24/7 because we know arrests don't just happen within 'normal business hours.
Felony Charges in Massachusetts
Back to Blog