How Much Does an OUI Attorney Save You?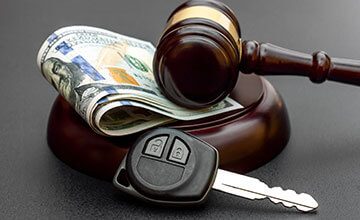 After an OUI arrest, you may ask yourself if you should hire an OUI defense attorney or simply face the harsh penalties, fines, and court fees without legal representation. Remember that you won't only face monetary costs when charged with an OUI. You'll also have to consider the cost of having an OUI on your record and how a license suspension can impact your life. In other words, an OUI doesn't only lead to a loss of money –it can also lead to a loss of independence, freedom, and rights.
Let's take a closer look at the fines, fees, and penalties that occur after an OUI conviction and if hiring an OUI attorney is worth it. Here are some examples of consequences, penalties, and expenses for a first-offense OUI charge:
A license suspension for up to one year. A suspended license can lead to public/private transportation costs ranging between hundreds or thousands of dollars.
Fines and fees ranging from $500-$5,000
Increase in car insurance – National average auto insurance rate increase for an OUI/DUI is 73%. Some insurance companies may increase rates up to 140%
Drug and alcohol education class $500
Jail time or required community service can impact your employment and yearly/hourly earnings.
What is the Total Cost of an OUI?
Every OUI case is different, and some will be exponentially more expensive than others. As you can see from the examples above, an OUI in Massachusetts can cost tens of thousands of dollars. If you're facing the maximum penalties and expenses in severe cases (e.g., accidents, injuries, property damage, bail, towing, impound, lost wages), you may end up paying over $100,000 in OUI costs.
How Can an OUI Defense Attorney Save Me Money?
Not hiring an OUI defense attorney can be an incredibly costly mistake. By representing yourself and relinquishing the guidance of an OUI lawyer, you're losing the opportunity to lessen charges, minimize penalties, lower fines and fees, and possibly even get your case dropped or dismissed. For over a decade, OUI defense attorney Courtney K. Fogarty has been dealing with the Massachusetts OUI laws and penalties. She can examine your OUI case and find the best and most cost-effective way for you to overcome this legal challenge.
Many OUI offenders assume that since they failed a breathalyzer test or a field sobriety test, nothing can be done about their OUI case. However, Courtney K. Fogarty is an OUI defense attorney who holds each case with the utmost importance and thoroughly assesses every detail of an arrest. She finds every possible solution and focuses on the best defense for each OUI case.
For example, she may discover issues with a breathalyzer device, errors with its accuracy in your BAC reading, or a bias in an officer's execution of a field sobriety test. Without the help of a seasoned Massachusetts OUI attorney with a strong knowledge of OUI laws, you forfeit your chance of lowering your costs and minimizing your penalties. Your OUI case may even qualify for a dismissal, but you won't know unless you work with a top-rated OUI defense attorney.
Contact a Massachusetts OUI Defense Attorney
Courtney K. Fogarty is available 24-hours a day, 7 days a week. If you're concerned about the cost of an OUI/DUI, you need to take action immediately. Not appearing at your court hearings or ignoring court fees will only make matters worse and your OUI more expensive. Massachusetts OUI attorney Courtney K. Fogarty takes every necessary step to save her clients time and money and preserve their rights. Call today to schedule a free consultation to learn more about the costs of an OUI and how a defense attorney can help you move forward.
How Much Does an OUI Attorney Save You?
Back to Blog