Plea Deals in Massachusetts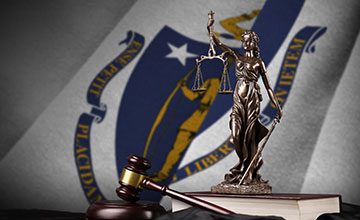 When you're facing criminal charges, the potential penalties can cast a long shadow over your life. In addition to serving a sentence, this blemish on your criminal record can impact you for years to come.
So, it's no surprise that you might be considering a plea deal. This option often looks a lot more appealing than letting your case go to trial.
But like anything else in life, plea deals in Massachusetts have their pros and cons. At Fogarty Law, we have over 10 years of experience helping clients understand all their paths forward—including plea deals.
That's why we put together this guide outlining how they work, plus potential benefits and drawbacks. Keep reading to learn more about plea deals in MA and how to make the right choice for your specific situation.
What is a Plea Deal, and How Does It Work in Massachusetts?
A plea deal in Massachusetts is when you and the prosecution make an agreement, in which you plead guilty in exchange for certain concessions.
These concessions vary depending on the nature of the charges. But overall, the penalties from a plea deal are lighter than the worst-case scenario of going to trial. You may be granted a lighter sentence, have the severity of your charges reduced, or both. This agreement is also sometimes called a plea bargain.
You can be offered a plea deal at just about any stage of your MA criminal case proceedings. For basic or less severe offenses, the prosecutor can sometimes get up to speed on the details quickly. In this scenario, you'd be offered a plea deal fairly early on.
In other cases, the prosecution may need some time to become familiar and construct the deal they'll offer you. You may even receive multiple offers as your case unfolds and evidence is gathered.
If you choose to accept the deal, you'll appear before a judge to enter your plea. The judge will also be informed of the details of your plea bargain. If they choose to accept it, the judge must then sentence you according to the details you've agreed to. But the judge may also reject your plea agreement if they feel it's unfair or inappropriate.
If you reject the plea deal, your case will continue and go to trial. While you do have the chance of winning a complete acquittal at trial, you also have the chance of receiving a harsher sentence.
When you work with an experienced Massachusetts criminal defense attorney like Courtney K. Fogarty, all your options—plus their potential benefits and drawbacks—will be clearly laid out for you. This makes it much easier to choose between taking the plea deal or proceeding to trial.
What is an Alford Plea, and is It an Option in Massachusetts?
Opting for an Alford plea means that while you don't admit to one or more of the details related to your charges, you concede that the prosecution has compelling evidence against you. An Alford plea is only an option in this specific scenario.
But if that evidence is present, yes, an Alford plea is an option in Massachusetts.
Like a standard plea deal, a judge also has the right not to accept it for any of several reasons. For example, if the judge believes your plea is involuntary or that you don't fully grasp the consequences, they can refuse it.   
What are the Benefits of Accepting a Plea Deal?
Plea deals in Massachusetts vary depending on the details of each case, but potential benefits generally include:
Resolving your case faster. No matter your situation, facing criminal charges is stressful. You're spending months, sometimes over a year, waiting for your trial. At the trial, listening to testimony and evidence is even more harrowing. Accepting a plea deal ends the ordeal faster, plus you have a much better idea of the overall outcome.
No guessing about the outcome. Waiting for your trial and wondering about the outcome can be exhausting. But when you accept a plea deal, you know exactly what's going to happen—no guessing or imagining for months on end.
Getting released from custody sooner. If you're held in custody until trial—whether you weren't offered bail or can't afford it—a plea deal can get you released faster. You still might face probation or community service, but you won't be stuck in a cell for quite as long.
Saving money on fees. Taking your case to trial will almost always be a longer process than accepting a plea deal. Paying for an attorney's legal counsel to decide whether to take the plea deal will likely cost less than having them represent you at the trial.
Serving time in prison instead of jail. It's not uncommon for jail conditions to be worse than those in prison. You may have more freedom in prison too, like time outside, classes, and other resources. Taking a plea deal means you move straight to prison instead of awaiting your trial in a local hail.
Reducing the severity of the charges on your record. Felonies, domestic violence, and other charges on your record can make life very difficult. If your plea deal includes being charged with a less severe offense, you can avoid some of these future problems.
Dodging the public eye. The longer your case is open, the more opportunities there are for the media or court of public opinion to take notice. If you're well-known in your community or depend on your reputation for your career, a plea deal can help you avoid painful negative publicity.
What are the Potential Disadvantages of Accepting a Plea Deal?
The potential disadvantages that may come with accepting a plea deal include:
Relinquishing certain rights. One of your rights is being presumed innocent unless you've proven guilty, as decided by a judge and/or jury. Taking a plea deal means giving up this right. Depending on the details of what you're being offered, you may be giving up other rights too.
Reconciling your innocence. If you didn't commit the offenses you're being charged with, accepting a plea deal can be hard. Your emotional and psychological well-being may be impacted. People in your life—both now and those you meet down the road—may have a hard time believing you're truly innocent, too.
Having a criminal record. Part of a plea deal is pleading guilty, or at least admitting the prosecution has strong evidence against you. This means you're going to end up with a criminal record. It can impact things like your career, housing options, and relationships for quite some time.
Dealing with the sentence. The sentence may be lighter than what you would've gotten from going to trial, but you'll still be sentenced. Probation, fines, and even jail time are all potential outcomes.
An Expert Massachusetts Criminal Defense Attorney Can Help You Determine the Ideal Strategy for Your Case
If you or a loved one are facing criminal charges, you're undoubtedly wondering about plea deals in Massachusetts. It's true that in certain cases, a plea deal is the best path forward. But you can't know whether it's ideal for you unless you're familiar with every available option.
The only way to ensure your rights are protected and that you win the best possible outcome is by hiring expert legal representation.
As an experienced MA criminal defense attorney with over a decade of successful experience, Courtney K. Fogarty provides exactly that. She'll review every single possibility for the outcome of your case—including whether a plea deal might be best.
To learn more about plea deals in Massachusetts and schedule your free initial case consultation, contact our law office today at (508) 317-0339.
Plea Deals in Massachusetts
Back to Blog