Arraignment in Massachusetts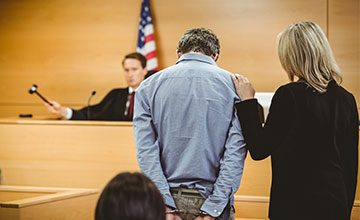 When you're charged with any kind of crime, it's hard not to worry about the entire court process. The potential sentence and penalties hanging over you are certainly stressful.
But for many people, the idea of appearing in court is just as scary as being found guilty. And understanding each step of the legal system while you're in this emotional state can be challenging.
At Fogarty Law, we have over 10 years of successful experience in the Superior and District Courts in Massachusetts. We know exactly how daunting the court process can seem.
That's why we put together this complete guide on arraignment in Massachusetts. Keep reading to learn what arraignment is, what you can expect, and the best way to prepare.
What is an Arraignment in Massachusetts?
In Massachusetts, an arraignment is for the formal reading of the charges against you and determining how your case will proceed.
The arraignment is your first appearance in court. And in some situations, your case can be resolved during this appearance. If your infraction is minor and you're working with an expert MA criminal defense attorney, you'll have better odds of reaching an agreement.
Another important detail is that you can be summoned to an arraignment without getting arrested.
You may receive a summons in the mail for your arraignment. Or if you attended a Clerk Magistrate's Hearing and a criminal complaint is issued, you'll receive an arraignment date.
But no matter how you end up getting your arraignment date, this appearance plays a major role in how your case unfolds.
Is Arraignment Part of the Trial?
No, arraignment in Massachusetts is not part of the trial. In fact, you may not even go to trial—depending on the outcome or resolution reached during your arraignment.
If your case proceeds without a resolution, there are several steps between now and your trial. You'll have several hearings and pre-trial conferences before the trial. And again, your lawyer and the prosecution may reach an agreement during these stages.
What Happens at an Arraignment in Massachusetts?
At an arraignment in Massachusetts, you can expect the following:
A court officer will show you where to stand, which may have a microphone
You'll remain standing when your specific case is called
The charges against you are read aloud, then you can choose how to plead
You're allowed to plead a few different ways, but at Fogarty Law, we recommend pleading "Not Guilty"
If you plead "Not Guilty," you'll be given a date for your pre-trial conference
Some arraignments include a bail hearing or dangerousness hearing, during which your bail and other conditions are set
If your bail is set, you'll be held in jail until the pre-trial or until the clerk receives bail payment
As you can see, your arraignment can go quite a few different ways. Hiring a skilled and aggressive Massachusetts criminal defense lawyer is your best option for winning your desired outcome and avoiding jail time.
What Will Happen When the Accused is Absent During the Arraignment?
If you're absent during your arraignment, the court can choose to hold you in contempt of court, suspend your driver's license, and issue an immediate warrant for your arrest.
There may be additional consequences depending on your situation. For example, if you're on probation and miss the arraignment, your probation may be adjusted or even revoked entirely.
Keep in mind that criminal contempt of court is a formal criminal charge, too. Even if you accidentally forgot about the court date, you may face these consequences. It's always in your best interest to show up for any and all court dates.
Can Charges Be Dropped at An Arraignment Hearing?
Yes, charges can be dropped at an arraignment hearing in MA, but it's very uncommon.
Remember, the arraignment is your very first court appearance. The main purpose is reading the charges against you, which kicks off the rest of the legal process.
But the prosecution does have the authority to drop the charges at this stage. An extremely compelling, unarguable reason would need to be presented for them to do so. And in most cases, there just isn't enough time between the arrest and the arraignment to do this kind of research.
If you receive news of your arraignment via a summons in the mail, you and your lawyer will have a bit more time to put this reasoning together. But every case is different.
This is another great reason to hire a focused and successful MA criminal defense lawyer ASAP. The more time you both have to collaborate before your court appearance, the more options you'll have.
What Happens After the Arraignment?
What happens after an arraignment in MA depends on the nature of your charges—specifically, whether they're felony or misdemeanor charges.
Here's what happens after an arraignment for a felony in District Court:
Probable Cause hearing. A review of the evidence to determine if your arrest was valid
Grand Jury. Members receive info from your arraignment and hearing, and then decide if your case proceeds to Superior Court.
Superior Court arraignment. A formal reading of the charges against you, this time in Superior Court.
Pretrial conference. The formal discovery period where your lawyer and the prosecution exchange information and discuss motions and witnesses.
Motion hearings. These hearings don't happen with every felony. But they're required for any major motion in your case.
Compliance and Election. Deadlines for submitting information and choosing your trial date.
Trial, verdict, and sentencing. All the previous steps culminate here, where a final verdict is delivered. If you're found not guilty, you can refocus on enjoying life.
Here's what happens after an arraignment for a misdemeanor:
Pretrial hearing. Several meetings where both sides exchange information on evidence, witnesses, and anything else relevant to your case.
Compliance and Election. Just like with felony proceedings, these are deadlines to submit information and choose the type of trial you'd like.
Motion hearings. The prosecution and your lawyer use these opportunities to ask the judge for motions, which allow specific things to happen in your court proceedings.
Trial, verdict, and sentencing. This is where you and your lawyer really put your defense strategy into action. If you're found not guilty, you can move on with your life. And if you're found guilty, you have the right to an appeal.
What are the Benefits of Having a Lawyer for an Arraignment?
Having a knowledgeable and aggressive MA criminal defense lawyer at your arraignment can drastically change things for the better.
Your lawyer can walk you through the bail process and even help you get released from jail before court. Considering how detrimental imprisonment can be, cutting your jail time short only serves to benefit you.
If you receive a summons in the mail, your lawyer can help you investigate and prepare. These are often mailed weeks or months after the alleged crime. This makes it frustrating to gather data or build a defense on your own. But an expert lawyer will make sure you're both fully prepared.
In a nutshell, things will go much more smoothly for you with a great lawyer by your side.
An arraignment in Massachusetts is just the start of the legal process, and you'll want an expert in your corner every step of the way. At Fogarty Law, we've successfully helped clients through this process for 10+ years.
And we're here for you 24/7. If you or a loved one has been arrested or received an arraignment summons in the mail, just call us now for your FREE case consultation at (508) 317-0339.
Arraignment in Massachusetts
Back to Blog