Misdemeanor Charges In Massachusetts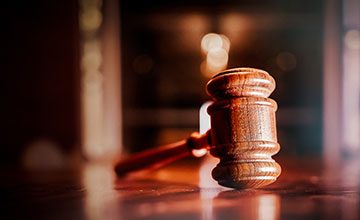 It's true that misdemeanor charges are considered less severe than felonies. At the same time, that doesn't mean being arrested for a misdemeanor is an easy experience. The penalties and consequences can still impact every aspect of your life, both day-to-day and long-term.
That's why the best thing you can do next is to hire a focused, intelligent Massachusetts criminal defense attorney. At Fogarty Law, our attorney Courtney K. Fogarty has spent more than 10 years winning favorable outcomes for clients facing misdemeanor charges.
Below, you'll find information and answers related to the questions she hears most often.
What Happens After I Am Arrested for a Misdemeanor Charge in Massachusetts?
After you're arrested for misdemeanor charges in MA, the next steps are generally:
Booking. You're taken to the police station for processing, which means doing a background check, taking your fingerprints, and collecting other personal information.
Bail. Typically with a misdemeanor charge, you'll be released on bail. Bail is the dollar amount you pay the court to guarantee you'll show up for future court appearances. You may also be released on personal recognizance, wherein you don't pay anything. But in certain cases, you won't be eligible for bail.
Arraignment. You appear before a judge, who formally reads the charges against you. Their goal is confirming you understand your rights. You'll also need to plead guilty, not guilty, or nolo contendere. We typically advise clients to plead 'not guilty' at this stage.
Pretrial conference. This is an opportunity for the prosecution and your attorney to negotiate a resolution without going to trial. This conference may or may not be part of your case, depending on a few specific details.
Motions and discovery. Your attorney will file relevant motions to suppress evidence or get the case dismissed entirely. Both sides also use discovery to review all evidence that will be presented and gather additional evidence.
Trial or disposition. If an agreement can't be reached by both sides in the earlier stages, you'll go to trial. Misdemeanors are normally heard in Massachusetts district court. If you're found not guilty, your case is dismissed. If you're found guilty, the judge will sentence you based on your record and the charges.
Appeals. Unhappy with the outcome of your case? You can appeal it to a higher court, who will review the trial for any errors or violations. If they find any issues, your charges may be dismissed, or you may have to undergo a retrial.
Examples of Misdemeanors in Massachusetts
Examples of misdemeanor charges in Massachusetts include:
Trespassing
Assault
Larceny/shoplifting
Disorderly conduct
Resisting arrest
Hit and run
Indecent exposure
Drug possession
But these are just a few examples. According to MA law, any crime punishable by time in a state penitentiary or death is a felony. All other crimes are considered misdemeanors.
When you hire an experienced, knowledgeable Massachusetts criminal defense attorney, they'll be able to fight for you in court no matter what you're charged with. Our attorney Courtney K. Fogarty has successfully represented clients facing misdemeanor charges for more than 10 years.
If you're ready to learn more about defense strategies that may work for your case, contact our law office today or call us at (508) 317-0339.
What are the Possible Sentencing Outcomes for a Misdemeanor Conviction in Massachusetts?
The possible sentencing outcomes for a misdemeanor conviction in Massachusetts include:
A jail sentence of up to two and a half years
Suspended sentences pending completion of probation
Fines up to $5,000
Your sentencing outcome depends on the seriousness of the offense, your past criminal record, and a few other details. The judge must weigh all of these factors when deciding how they'll sentence you.
But keep in mind, the consequences stemming from misdemeanor charges can go far beyond those imposed by the court.
The conviction will appear on your record for years to come. And depending on the nature of the charges, you could be barred from certain housing or employment opportunities. People in your family and/or community may treat you differently as a result, too.
How Can I Expunge or Seal My Misdemeanor Record in Massachusetts?
You can expunge or seal your misdemeanor record in Massachusetts by filing a petition with the court to do so. But you can't just turn around and file the paperwork immediately after you're sentenced.
Instead, you have to wait until 3 years from the date you completed all parts of your misdemeanor sentence. Additionally, this option was designed specifically for younger people to get a second chance at life. So, you can only go this route if the offenses were committed before your 21st birthday.
There is an option for non-time-based expungement, too. If, for example, you were convicted due to:
Someone stealing your identity and committing the crime
Fraud committed by the court
Or errors made by law enforcement/witnesses/court employees
Then you're eligible for this sealing/expungement option.
That said, there's quite a few subtle details that impact which avenues for sealing or expungement are available to you. Talking with a knowledgeable Massachusetts criminal defense attorney is the best way to fully understand all your options and the path to get there.
How Can a Massachusetts Criminal Defense Attorney Help with My Misdemeanor Charges?
A Massachusetts criminal defense attorney can help with your misdemeanor charges by:
Aggressively and strategically advocating on your behalf in court
Providing clear, accurate legal advice when you need it
Discovering and leveraging violations committed by the law enforcement officials working your case
Aiding you in avoiding jail time resulting from your misdemeanor
Winning the best possible outcome for your case based on your unique circumstances
Navigating the legal system on your own is a tall order—let alone doing so and achieving a favorable outcome. That's why you shouldn't try to carry this heavy burden alone.
Working with an expert, focused Massachusetts criminal defense attorney gives you the best chance of beating your misdemeanor charges. Contact us at Fogarty Law or call (508) 317-0339 now to start building your custom defense strategy. Don't leave your future up to chance.
Misdemeanor Charges In Massachusetts
Back to Blog